HR for LinkedIn Talent Hub
Integrate LinkedIn Talent Hub (ATS) with Appogee HR to Kick Start a Seamless Employee Lifecycle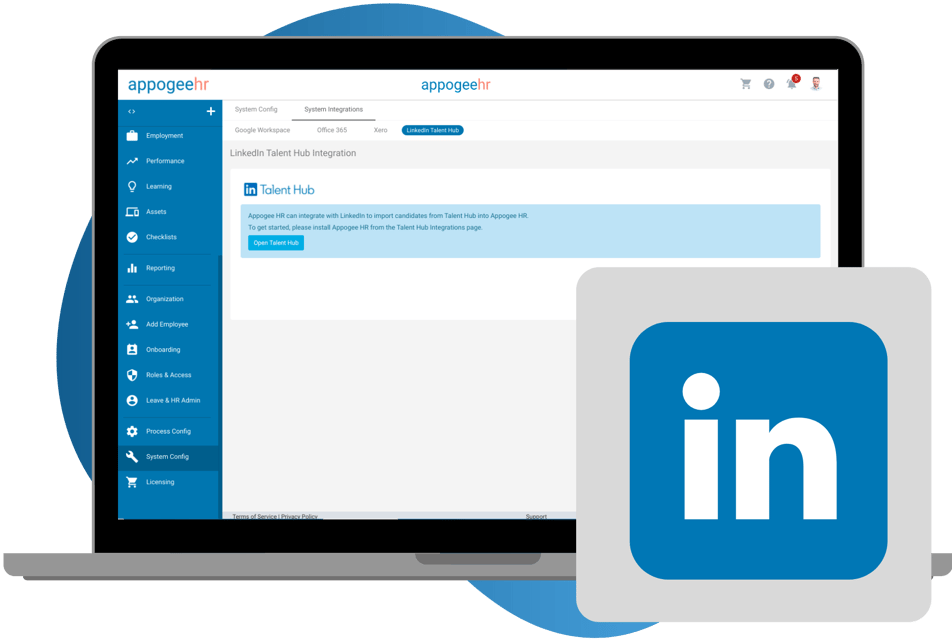 HR and ATS lntegration
Appogee HR Software seamlessly integrates with LinkedIn Talent Hub Applicant Tracking System (ATS) to ensure you and your candidate have the best experience from the hiring process and throughout your new hire's full employee lifecycle. The hassle free, 100% secure data transfer from LinkedIn Talent Hub to Appogee HR means you can spend less time on manual data entry administration and more time focussing on onboarding your employee and nurturing their journey.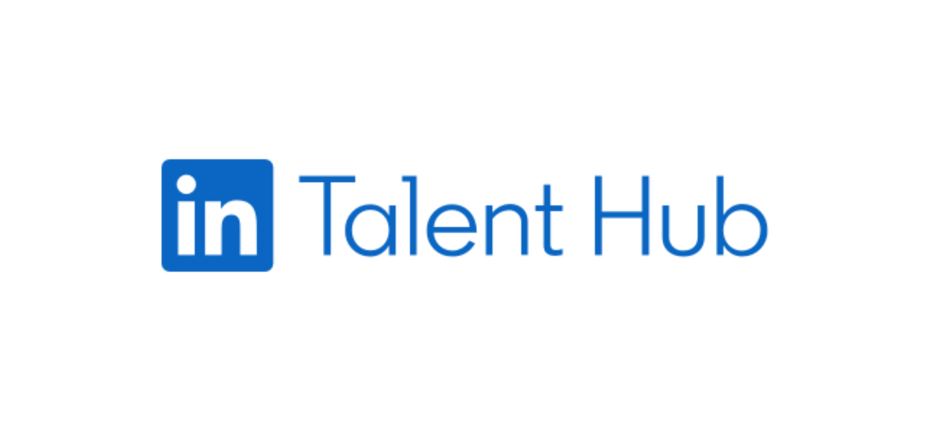 Seamlessly Kick Off Onboarding
Give your new hire access to our Onboarding Portal before they start, to kick off their employee journey leaving you fully prepared and stress free for their first day, giving you more time to focus on giving your candidate the best experience.
Easy to Use & Integrate
You will love how easy it is to set up the integration, while your new hire can enjoy our easy to use interface. Give them access to key features and company documents, that you control throughout their journey. With Appogee HR, you're in control.
Save Valuable Time
Using automation can save you time on manual data entry, giving you more time onboarding your new employee while sensitive information on your new employee appears in your HRMS via the reliable integration.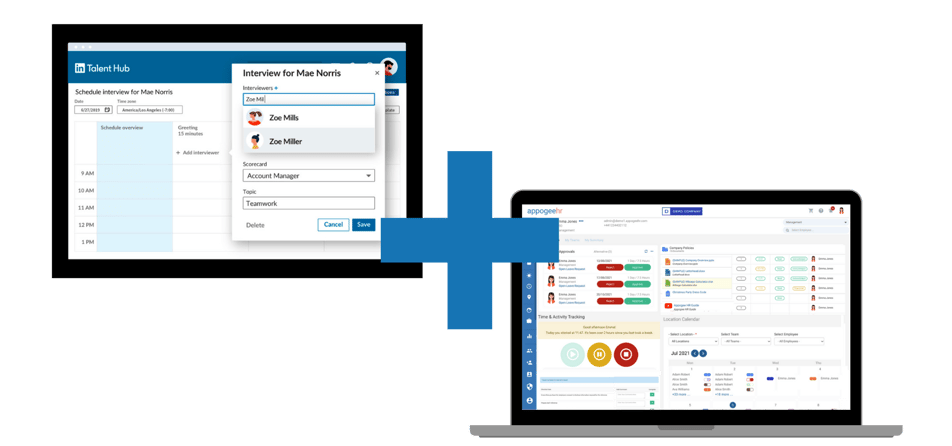 What is Appogee HR?
Engage your employees and empower your managers with our 100% secure and easy to use HR software.
Appogee HR is an innovative HR management system (HRMS) which provides companies with a range of products to enable your people management to be as simple and effective as possible. Starting from the moment you select your winning candidate through to, pre-boarding and supporting your employees and managers right through to offboarding, the full employee journey is taken care of from one place.
Combining performance management, absence and leave requests, an onboarding portal, self-service for employees, reporting and a secure place to store company documents, our Appogee HR Success package is a one-stop shop to increasing manager autonomy and employee engagement. Our software is so intuitive to set up and simple to use that your employees will love it! Also available is our Appogee Leave package for straight-forward absence management, HR Essentials for a basic HR Software package and Appogee Goals for employee performance management.
Our suite of integrations includes LinkedIn Talent Hub, Office 365, G Suite and Xero offering key benefits to supporting your HR digital transformation requirements.
Try your desired package free for 14 days. Or, for more information, email sales@appogeehr.com.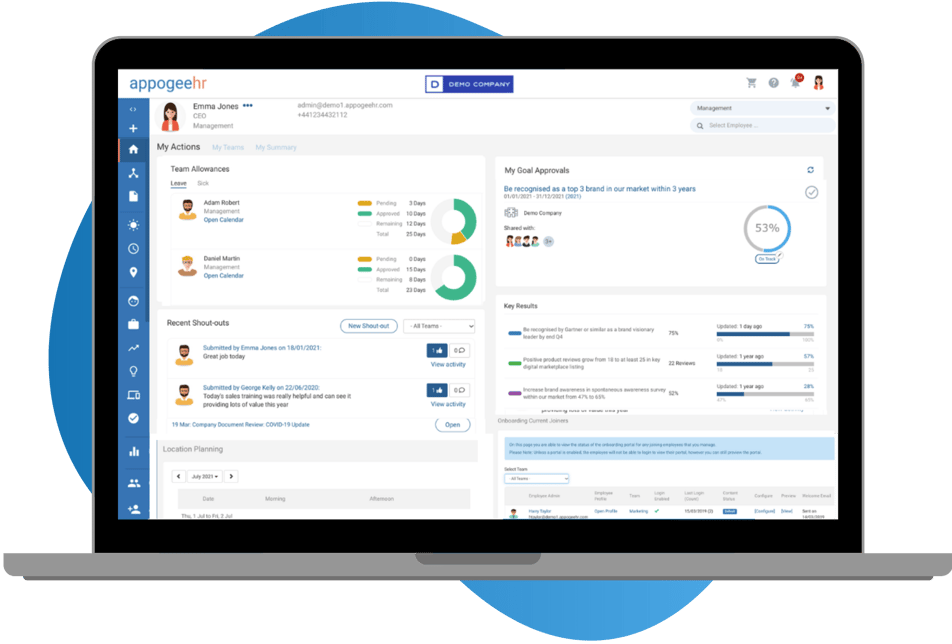 What is LinkedIn Talent Hub?
LinkedIn Talent Hub brings LinkedIn Recruiter, Pipeline Builder, and Jobs together into their ATS platform letting you source, manage, and hire – all in one place
LinkedIn Talent Hub is the only Applicant Tracking System (ATS) which operates on the LinkedIn platform, giving you direct access to a vast pool of talent from the world's largest professional network on the Internet. LinkedIn boasts more than 690+ million members in over 200 countries and territories. Get insights throughout your hiring process to make better talent decisions and gain an edge over the competition.
The LinkedIn Talent Hub integration with Appogee HR gives customers the ability to streamline the hiring workflow by seamlessly integrating your winning candidate directly into your HR software system. This provides you with full functionality to move your new hire through to pre-boarding, onboarding and throughout their entire employee journey.
In response to the current challenges customers may be facing, LinkedIn is currently offering eligible customers two years free of its applicant tracking system (ATS), Talent Hub. For more details, please reach out to your LinkedIn Talent Solutions representative or contact Linkedin here. Additional terms apply.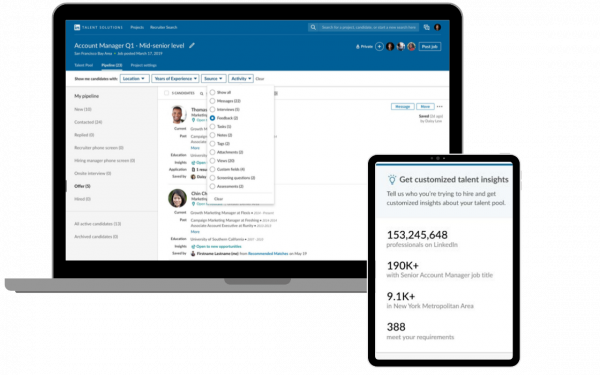 Get started today!
Try Appogee HR free for 14 days or book a demo with a friendly member of our team!