appogee
hr
essentials
Easy to use HR software to address all your core HR needs.
It's
Essential.
A full HR management system, built from the ground up to meet your HR needs. Our cloud HR software has the tools to keep employee records and company info centralised, secure and accessible.
Online absence management software
appogeeleave, our online absence management tool, is included in full with your Appogee HR Essentials package.

Seamlessly track all staff leave, from holiday requests to sickness leave to working from home - without a spreadsheet in sight!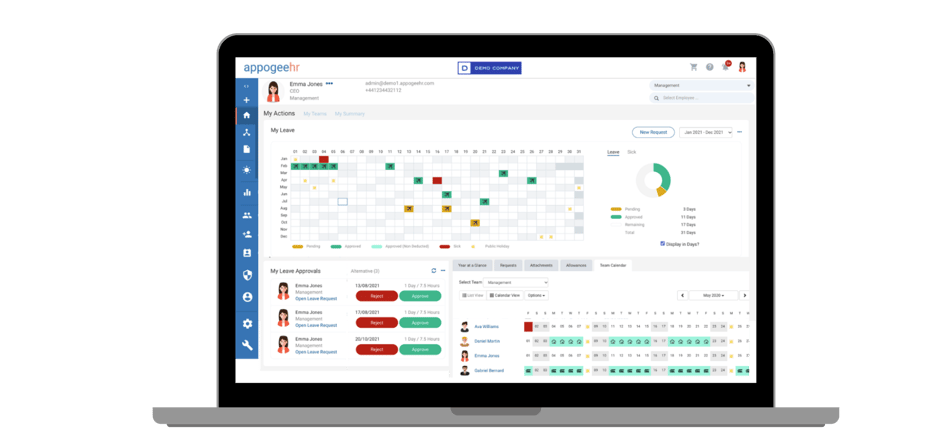 Centralised employee profile management system
Our employee management software makes records management a breeze. Centralise employee profiles and records, and use customisable fields to store any data you need.

Eliminate the need for paper copies with our powerful employee management tools, and enjoy instant access to the information you need, when you need it
Powerful time tracking software
Our time tracking tools give full and instant visibility of employee attendance, wherever they are working.
This cloud-based time tracking software features easy to use clock-in and clock-out functionality and online timesheets. Managers can mark timesheets as approved or send queries, helping you to report on staff working hours with ease.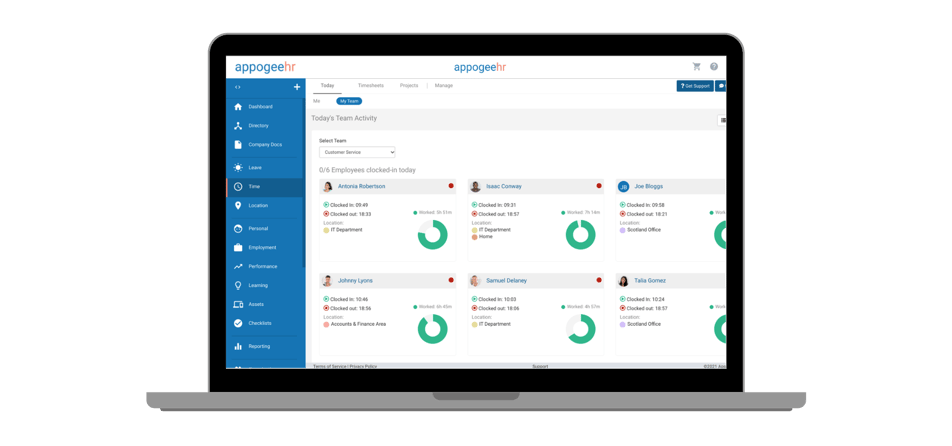 Seamless company document management system
The right document management software can redefine your business. Move away from insecure shared drives, and towards fully-secure company documents and policies.
Our cloud-based file management software lets you store any kind of file in a centralised location and grant access as required, as well as full document history and version control.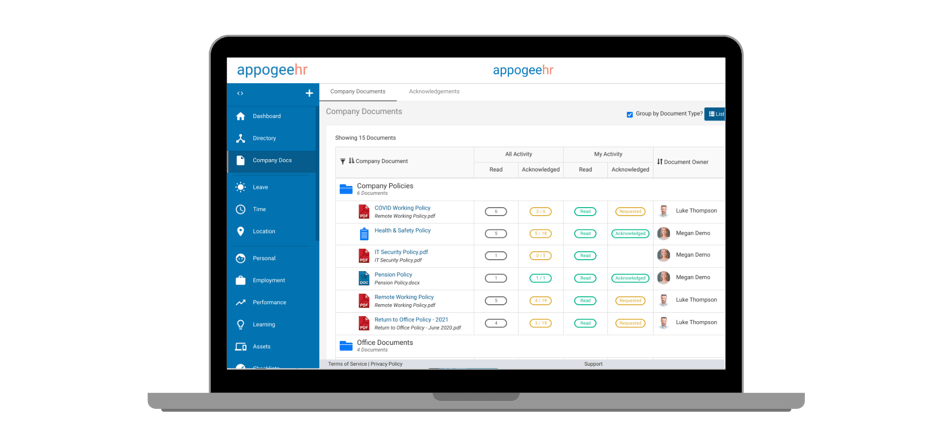 Employee location tracking & desk booking system
Need to track employee location? Our location tracking tools give instant visibility on who is working where, and when.
Remove the ambiguity with clock-in and clock-out functionality, and use our desk booking system to plan a hybrid working schedule that suits your teams and keeps everyone in the loop.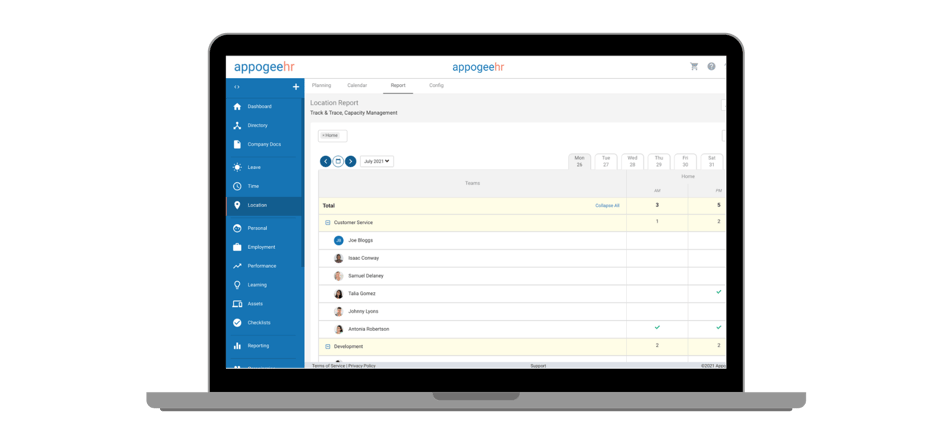 Effortless employee self-service
Whether it's sickness leave, a holiday request, time off in lieu or something else, our leave management system is designed to let your staff update and manage their requests with ease.
Rethink your leave management processes by freeing up your time while ensuring the data you're holding is always up to date and accurate.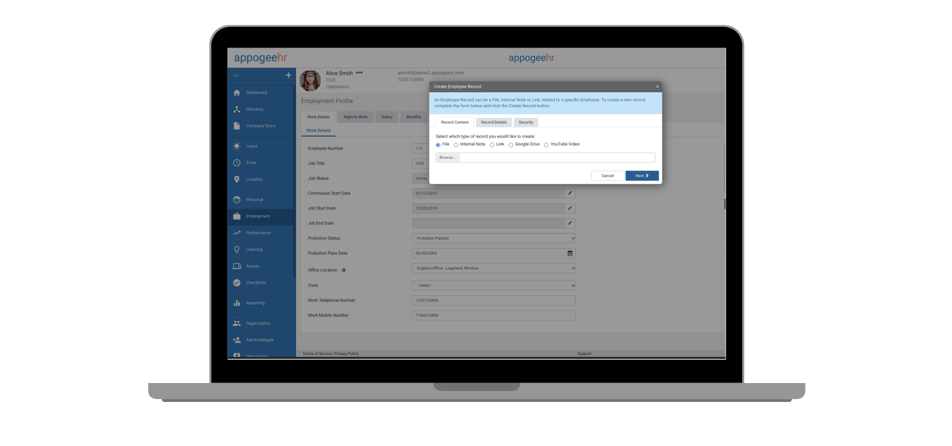 Build and manage employee workflows & checklists
Streamline internal processes and improve employee efficiency and productivity with powerful workflow automation software.
An automated workflow can facilitate all sorts of business processes through in-app acknowledgements, read requests, and more.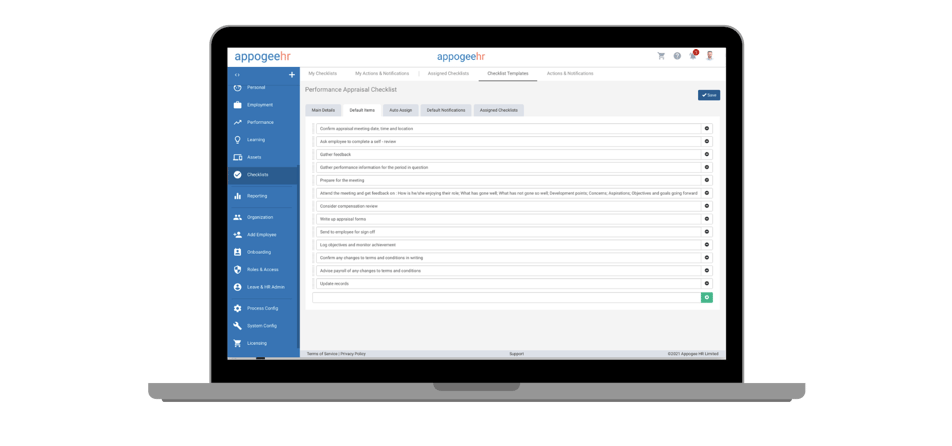 Basic employee performance tracking
Performance management is crucial for employee development, and the right performance management software can make or break this process.
Move away from performance reviews being a source of stress with our cloud-based performance management tools.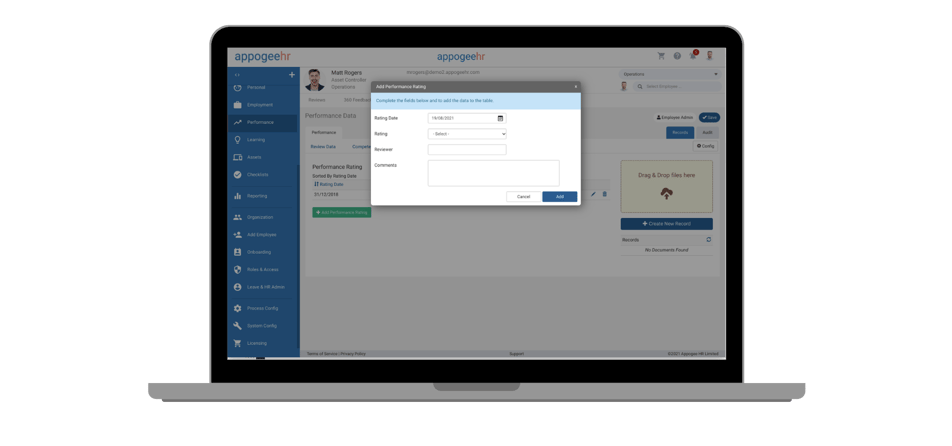 Instant HR reporting software
Our core HR software lets you, filter, save and schedule customisable reports to give you full control over your data.
Get accurate, meaningful and up to date insights in an instant: report on any combination of data that you collect on your employees or organisation.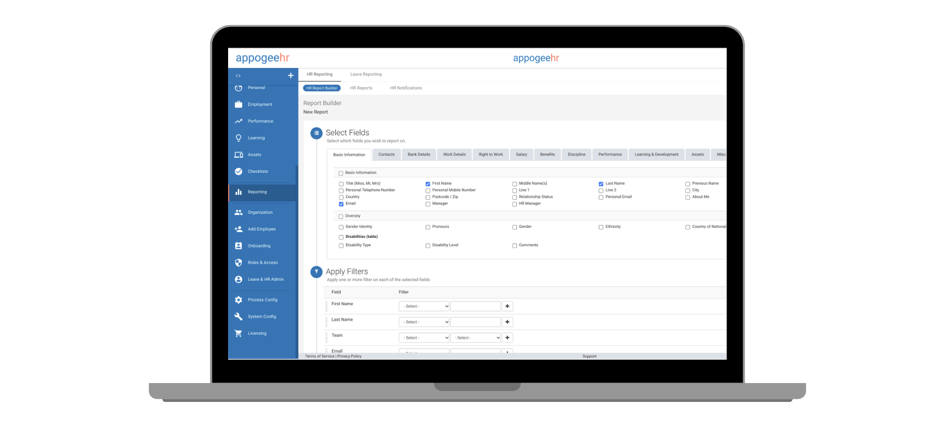 Fully customisable to meet your needs
We know HR, which is why we've built our core HR software to be fully bespoke to the needs of your organisation.
Every business is unique, and HR software is far from a one-size-fits-all solution..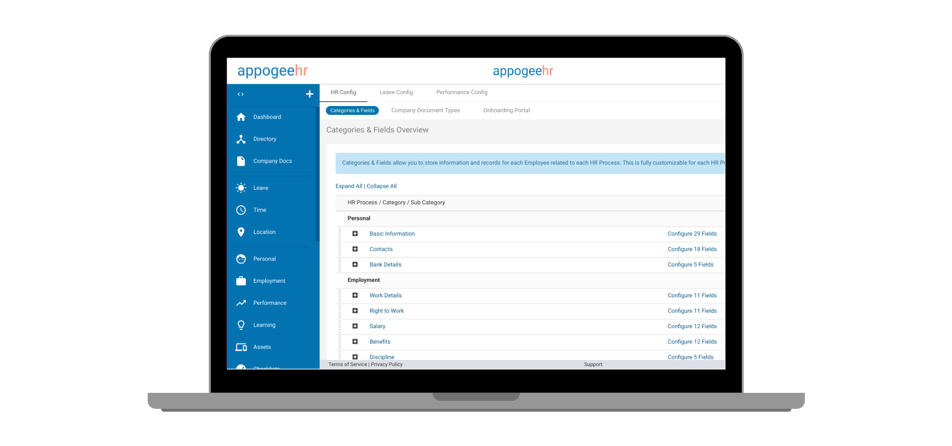 Integrations with Workspace, Xero and more
Keep your HR software connected to maximise productivity, security and data consistency. AppogeeHR Essentials integrates seamlessly with Google Workspace, Office 365 Xero, and many other platforms, letting you access the benefits without any disruption.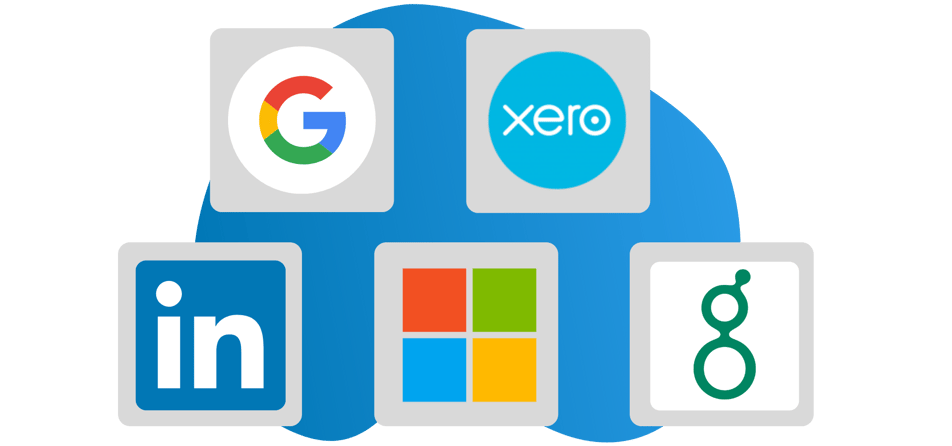 The best HR software
Our friendly customer support team is available to help out with any questions you may have about your HR software. We have an extensive knowledge base of documents, FAQs, guides, support videos and more.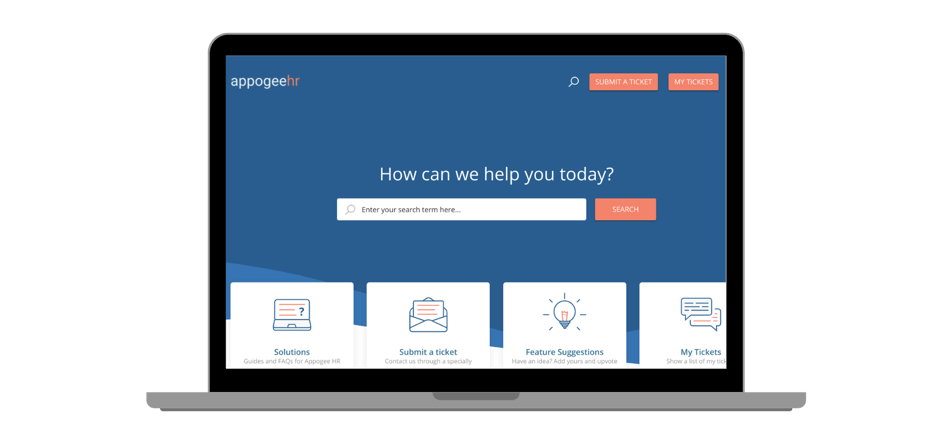 Suitable for global organisations
Our powerful cloud-based HR software is tailored to the demands of global organisations, thanks to French and Spanish translations and fully localised public holidays which can be configured to work alongside your employee's preferences.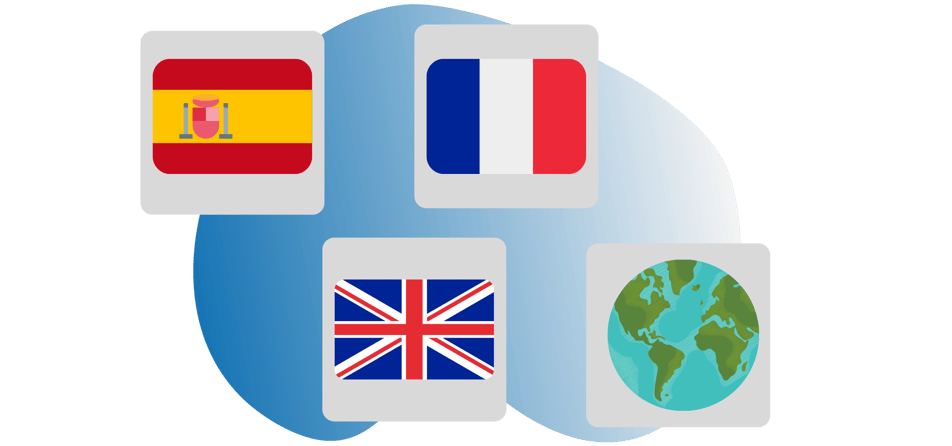 Appogee HR Essentials FAQs
Can I store company policies and/or employee contracts?
Yes: the document management system offered in Appogee HR Essentials offers fully secure storage for any type of document, with access permission controls to let you restrict access to those who need it.
Does Appogee HR Essentials offer e-signature capability?
No, however an acknowledgement system is built into Appogee HR Essentials which lets you request and require acknowledgement of receipt of documents and of any required actions. This offers a full and comprehensive audit trail on all documents and processes.
Can I add [x] type of leave?
Yes: Appogee Leave allows you to add, track and report on any type of leave in a fully digital environment, removing the need for physical documents in the absence tracking process.
Is there a limit to how many types of leave we can track?
No, there is no limit to the types of leave you can track. Many organisations track the usual types of leave as well as specific regional leave types.
Will Appogee HR Essentials populate my calendar?
Yes, the Appogee Leave functionality included in Essentials offers true calendar integration by automatically populating your calendar apps. This is in contrast with some other absence management software, which only generates iCal links that require manual calendar population.
Can we set reports to run on schedules?
Yes. Reporting is a crucial element of HR software, and Appogee HR Essentials contains a suite of powerful reporting tools which let you report on any type and combination of data your organisation collects. These reports can then be run on custom, automated schedules as well as being generated on an ad hoc basis.
Where is our data stored?
Our services use Google EU data centres to store our data, thanks to their use of cutting edge technology, and very high standards of security.
Is our data secure?
Yes: we believe that full trust in the security of your data is a fundamental part of choosing a digital HR system. That's why we use data centres with the highest levels of digital and physical security, and the certifications to back this up (ISO 27001, ISO 27018 and audited to SSAE 16/ISAE 3402 and SOC 3 Type II standard).
Full information about data security with Appogee can be found here.
Is our data encrypted?
Yes, data is encrypted both at rest and during transfer by Google Cloud Platform: the service on which our software operates. This means your data is fully encrypted when moving between our servers and your device, and between our servers and Google's.
Are your services environmentally friendly?
Yes. We choose to work with Google Cloud Platform because of their strong commitments to reducing the environmental impact of their cloud services. As well as being carbon neutral today, Google Cloud Platform aims to be fully carbon free by 2030.
Does your HR software have any hidden fees?
No, our pricing page shows the price you will pay. There are no hidden fees or extras.
Can we build custom functionality into your HR software?
Yes. We understand that the needs of an organisation are unique and complex, and that there comes a point when out-of-the-box solutions no longer fit. That's why we offer an API for custom integrations as well as our default integrations with Xero, Google Workspace, Microsoft 365 and other platforms.
Is there an Appogee HR mobile app?
No, we do not offer a dedicated mobile app. However, all of our software is built to be used in-browser, and is fully responsive by design.
Do we have to install anything?
No, you just need to have a browser installed on your device. Appogee HR Essentials works with all major browsers, including Google Chrome, Mozilla Firefox, Safari, Microsoft Edge and others.
Get started today!
Try your chosen solution free for 14 days or book a demo with a member of our friendly team.