appogee
time tracker
Intelligent project tracking for forward-thinking companies. It's about
Time
Easy to use, secure software for tracking time against customers, projects, and teams with customisable metrics, planning & budgeting, and more.
Track against customers, projects, tasks and teams
Our project management software lets you easily track tasks, customers, and teams. You can track in real-time or after completion to ensure your project plan is accurate and productive. You also have powerful cross-project reporting which gives you the ability to report on different elements across all projects, customers & tasks.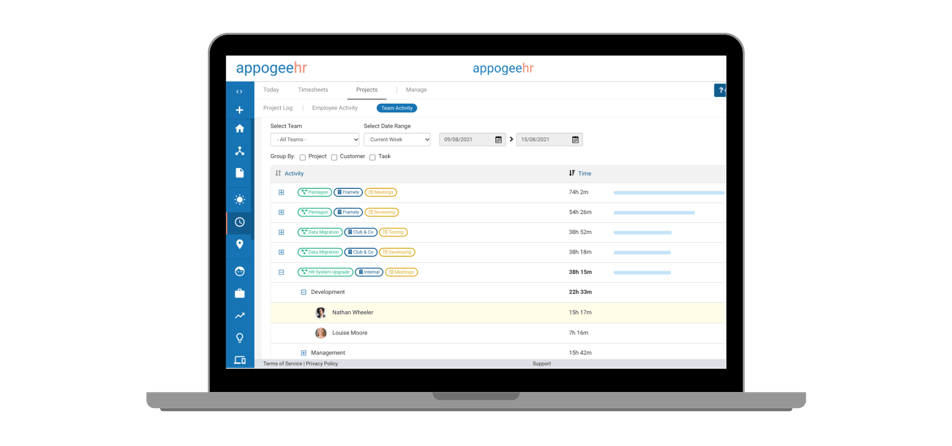 Pre-project planning & budgeting
Software for project management is most useful when it lets you forecast costs and timescales for your clients.
With appogeetime tracker you can allocate estimates to different roles to enable more accurate pre-project planning, budgeting and productivity measurements.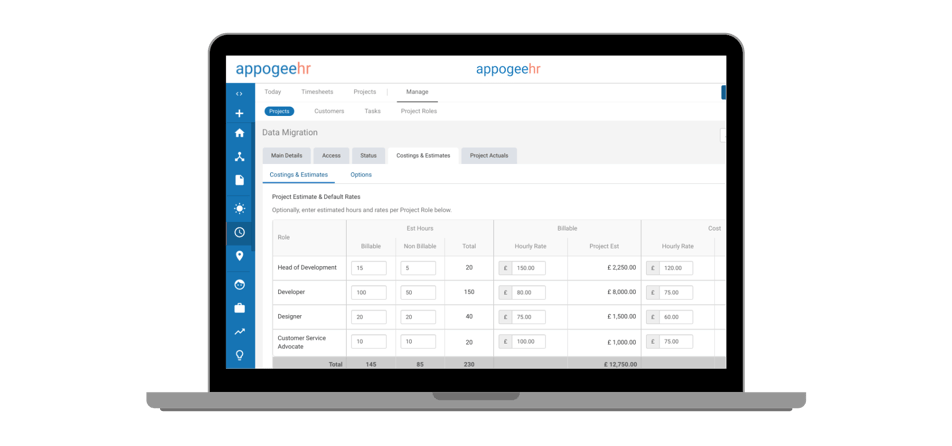 Project actuals & analysis
Easily see the time spent on any project, -whether billable or non-billable - and track it against the project cost.
Classify project roles and track hourly rates and other employee-specific costs to make your actuals and project planning more accurate.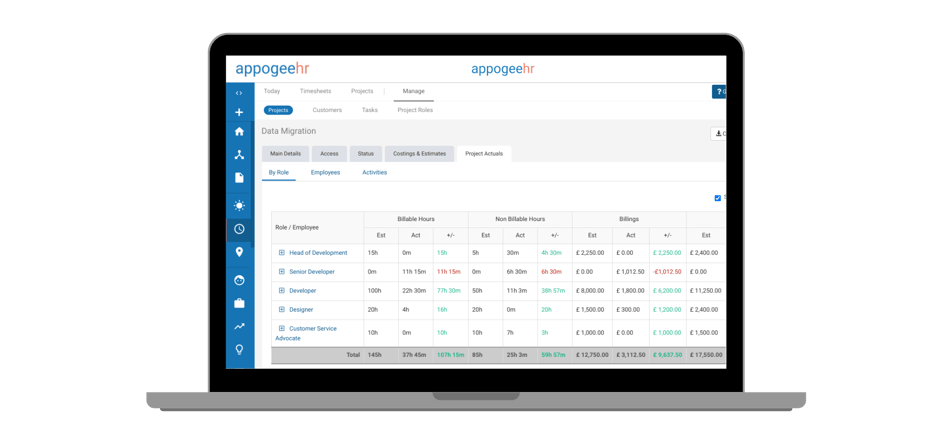 Billable vs. non billable utilisation
Billable vs non-billable tracking separates the best time tracking tools from the rest.
Our project tracking software lets you track time against teams, customers and projects to analyse what work is being billed out and whether free work is being done.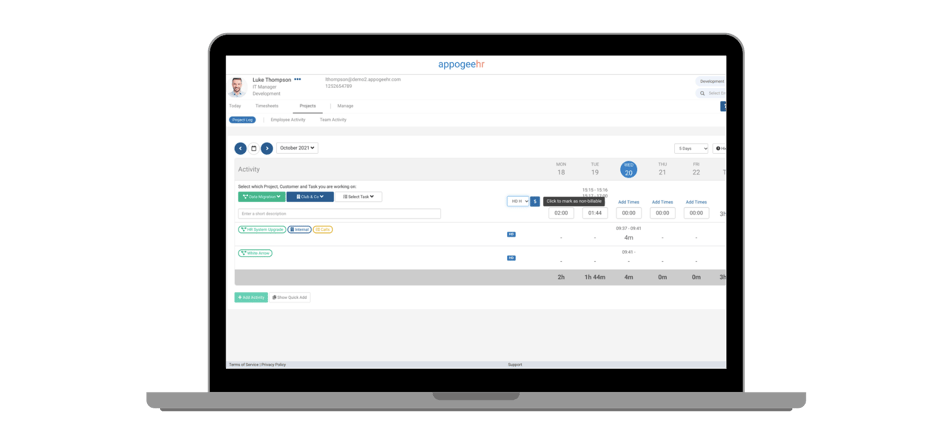 Secure project management roles
Project Managers are crucial to any operation, and appogeetime tracker ensures that managers have access to the information they need when they need it.
Users with the Project Admin role have full edit access to projects and billing costs.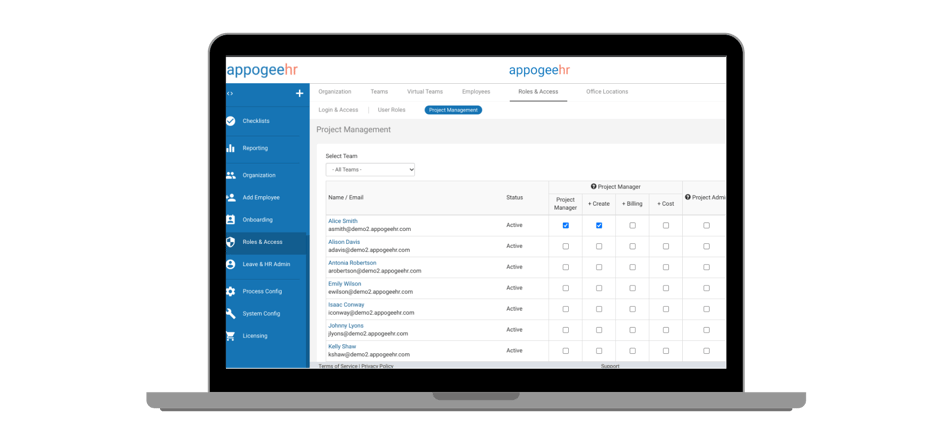 Employee project roles & rates
An accurate project plan relies on knowing what work will cost. Employee roles and rates give granular costings/billings and actuals of each project at a glance.
This will give you a clear picture of project actuals by determining how much your employees are billed for and how much they cost.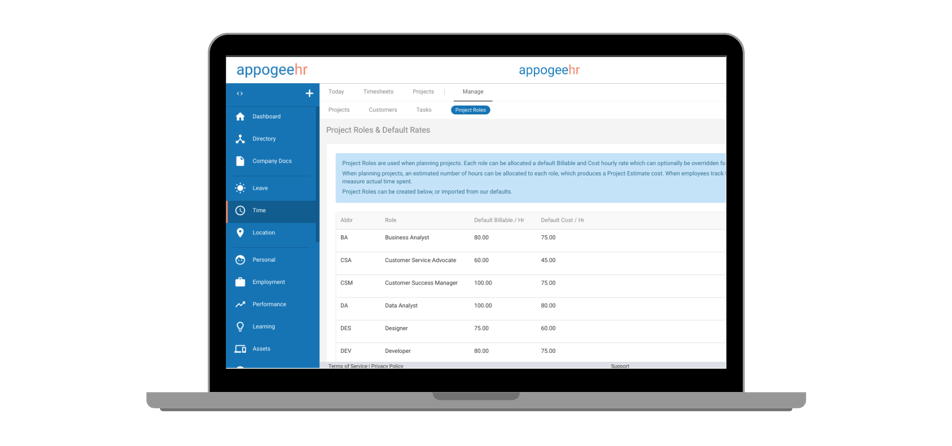 Staff location recording
Time tracking software is made more powerful with location tracking capability. appogeetime tracker lets you track who's in the office and who's working from home, and to tap into actionable insights from this data.
Find the best days to set up face-to-face team meetings, track who's with each client, or set up zones and areas with optional alerts for capacity management.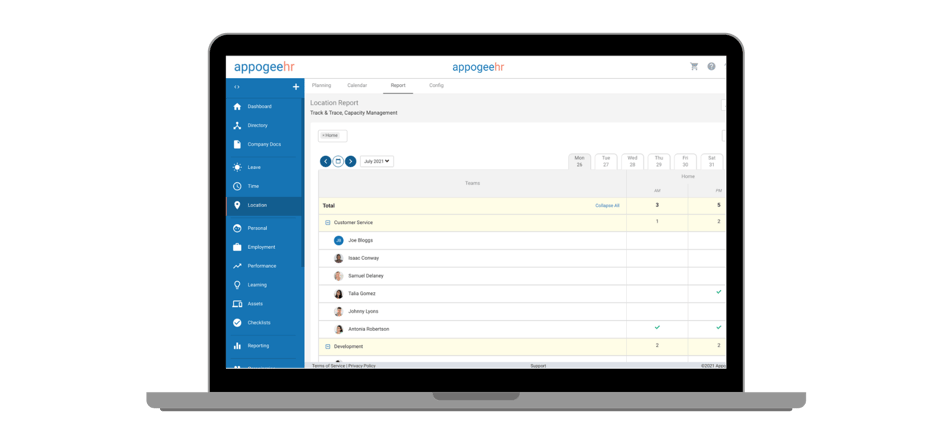 Clock-in & clock-out
If you need real-time information, our time tracking software has got you covered: staff can start work at the click of a button with our clock in and clock out functionality.
This functionality can be used in conjunction with project tracking or as a separate tool.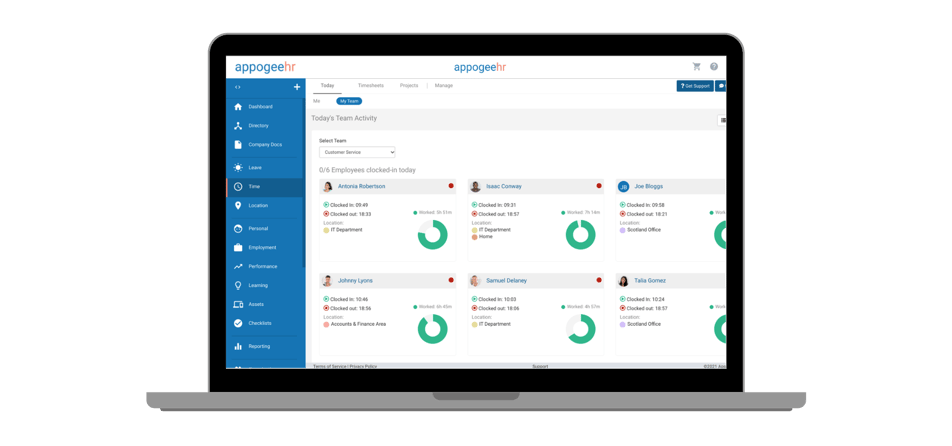 Xero integration with Timesheets
Clocking in and out has never been easier. Simply start and end your workday by clicking a button and our system will track your hours worked and sync them automatically with Xero. This will create a timesheet of hours worked for payroll, which means no more manual entry.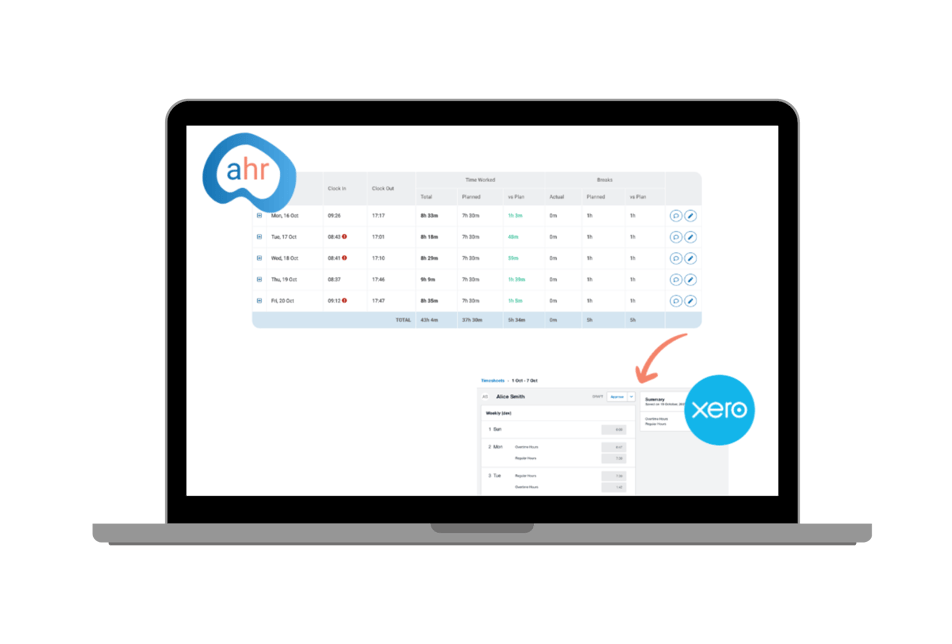 Productivity integrations
Google Workspace and Microsoft 365 integrate seamlessly with appogeetime tracker to help you and your teams be even more productive, secure and accurate!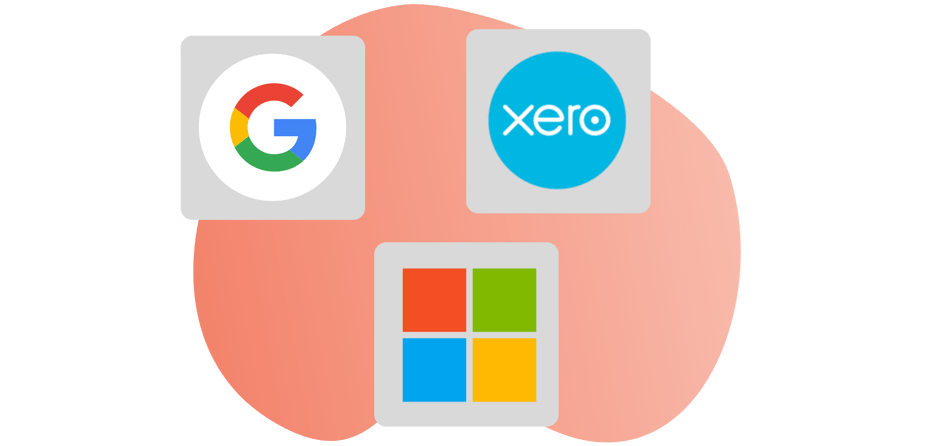 Suitable for global organisations
Appogee Time Tracker is also available in French and Spanish languages so your employees can select their preferred translation if you give them the option to do so!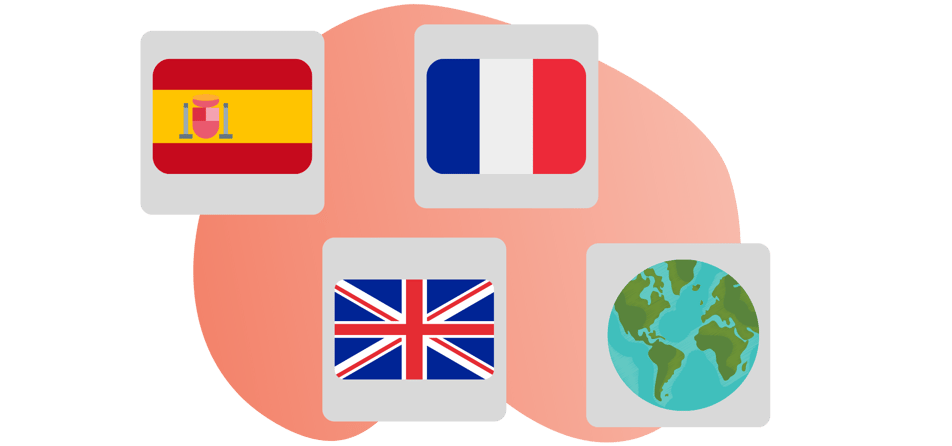 Appogee Time Tracker FAQs
Can I compare scheduled time with actual time worked?
Yes: comparing figures from pre-project planning with actual time worked is a fundamental part of time management, and our tracking software offers this functionality.
Can we track time via mobile?
Yes: Appogee Time Tracker is built to be fully responsive, meaning it can be used on mobile devices. This gives your employees the power to track their time wherever they're working from, meaning nothing goes untracked.
Can we report on billable vs non-billable time?
Yes: understanding how your employees are spending their time is requisite knowledge for effective planning. Our billable vs non-billable tracking functionality lets you see when and why unbilled work is being done.
Can we add custom time tracking functionality?
Yes. The Appogee HR API gives developers the tools they need to build custom functionality and expand the capabilities of our software beyond the out-of-the-box integrations we offer. We can advise on designing and implementing custom functionality, helping your business to do everything it needs to do.
Can I see how Appogee Time Tracker works before we buy?
Yes, you can book a demo to see Appogee Time Tracker or any of our other software in action. Our team will be happy to talk you through the default functionality, as well as answer any questions you might have about the software or the things it can do.
Can we automate time reports?
Yes. Reporting on how time is spent within your organisation is a crucial part of planning and forecasting. Appogee Time Tracker offers complex reporting functionality, meaning you can draw insights from any and all time data your organisation collects. Reports can be created on an ad hoc basis, or scheduled to run automatically on any schedule.
Where do you store our data?
Our services use Google EU data centres, which boast state of the art data security. We understand how important it is to know that data is safe and secure, and our software is built on this fundamental consideration.
Is our data secure?
Yes. Google Cloud Platform has industry-leading levels of data security, both physical and digital. These data centres are compliant to standards ISO 27001, ISO 27018 and audited to SSAE 16/ISAE 3402 and SOC 3 Type II,.
Full information about data security with Appogee HR can be found here.
Is our data encrypted?
Yes. Data must be secure in transit as well as at rest, and all Appogee data is encrypted at rest and during transfer. This means your data is safe while moving between your device and our servers, and between our servers and Google's
Is our data stored in an environmentally friendly way?
Yes. Data storage can be hugely environmentally demanding, but we considered Google Cloud Platform's green credentials when deciding to use their services. As well as having carbon neutral operation today, they have an ambitious target to be completely carbon free by 2030.
Will we have to pay any hidden fees?
No. We believe that transparency is the best policy, so the prices you find on our pricing page are the ones you'll pay. There are no hidden fees.
Is there an Appogee HR app?
Do we need to install anything to use Appogee HR software?
No: you just need an internet browser and a network connection.
Get started today!
Get started now by starting your 14 day free trial or booking a demo with a friendly member of our team.