Appogee HR for Google Workspace
Google Workspace is an integrated suite of apps powered by Google AI and securely hosted on Google Cloud. The suite of apps for business includes Gmail, Docs, Drive, Calendar, Meet and more.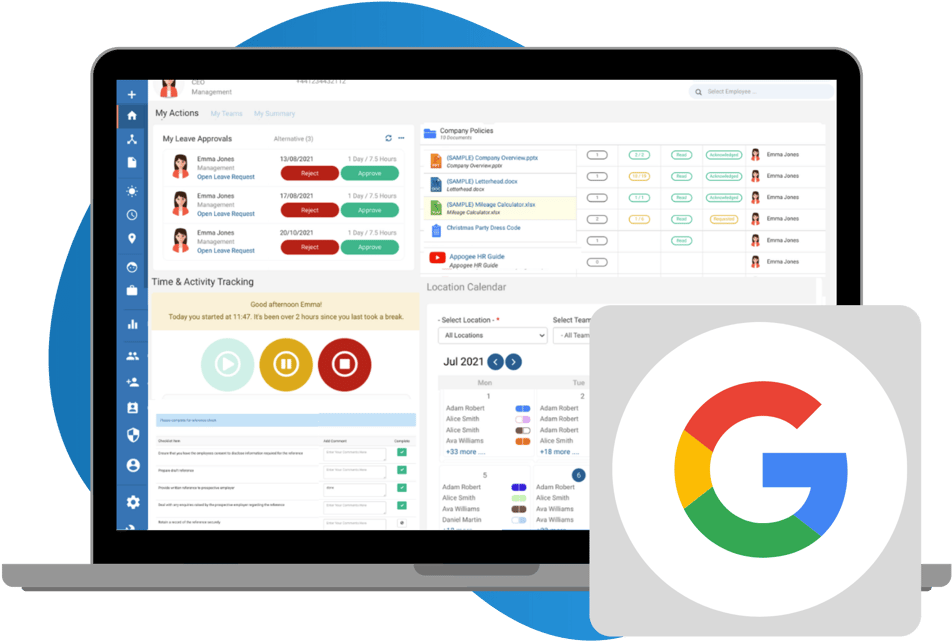 Appogee HR is a cloud-based HR Management and Employee Records solution that seamlessly integrates with your Google Workspace (formerly G Suite) apps for enhanced people management, collaboration and productivity from wherever your staff are working.
Enhanced integration for Google Workspace (formerly G Suite) users includes:
Single sign-on with Google Accounts for web and mobile devices
Automatic user provisioning
The application is directly accessible through the Google App Launcher
There are no downloads or installation. Simply add from the G Suite Marketplace

Appogee HR comes in two packages, Appogee HR Essentials for core HR management and Appogee HR Success for more advanced people management needs. Both solutions include Appogee Leave Management solution and HR Success includes Appogee Time for hybrid working management, clock-in and clock-out, online timesheets and more.
If you're interested in enhancing your people management with our Google Workspace integration you can sign up for a 14 day free trial here or book a demo here.
Get started today!
Try Appogee HR free for 14 days or request a demo with a member of our team.