March 2017 Tips - Appogee HR
Hello,
As we are now in March we can finally wave goodbye to the cold winter months and welcome spring with all the beautiful daffodils and sunshine.
I thought it would be the perfect time present a March blog post with some fresh Appogee HR tips.
Enjoy the read and more importantly enjoy the weather.
Thanks,
Natasha
Uploading a profile photo
All employee profiles on Appogee HR have the ability to upload a profile photograph. This feature is great, as it not only attaches the photograph to the profile, it also attaches the photo to the person in the employee directory. This is a useful feature if you're anything like me and remember faces a lot easier than remembering names. Therefore if you know Sally from the finance department by face and not name, you can still look her up.
Just click on the Profile image on your Employee Ribbon to upload a new one.

Configuring the Org Chart hierarchical structure
The Org chart on Appogee HR is structured by defining parent teams on the team profile. If you specify on the Development team, that the Management team is it's parent team; this will make the Development team a child team of the Management team. This will be structured as specified on the Org chart. Using the Org chart on Appogee HR has proven useful as many of our customers love the fact that when an employee leaves or joins, the org chart is updated on the system in accordance to the employee status, so there's no manual labour needed.
Employee Profile Custom Configuration
The Employee profile can be configured to have custom sub-categories and fields as Appogee HR has made this section fully customisable to your business needs. Therefore if it is a company policy for employees to provide their vehicle registration number, this can be attached to the employee profile and set so that employees can edit this field, to update when they buy a new car. Perfect for companies with parking policies. This feature can be configured by an Administrator under the Configuration tab.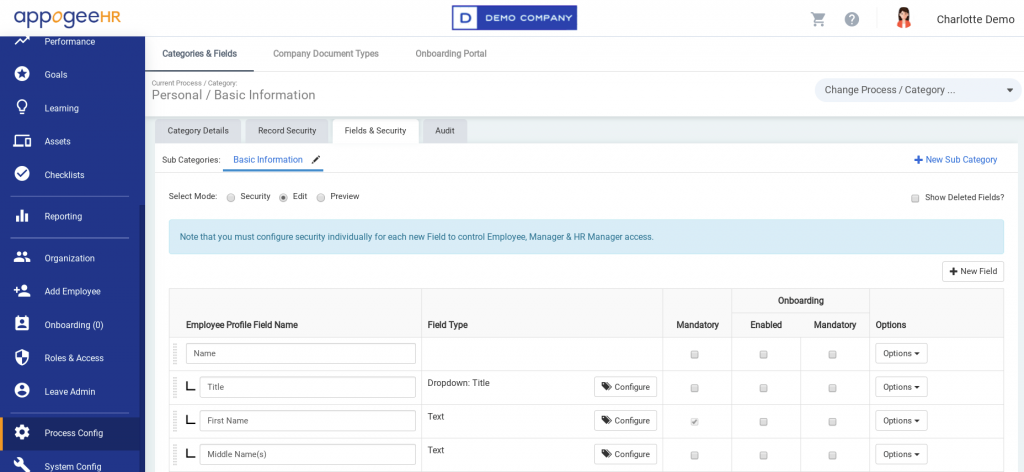 (Screenshots Updated)